The University of Namibia in collaboration with the Ministry of Health and Social Services and the German Cancer Research Centre (DKFZ), recently hosted a first-of-its-kind workshop to deliberate on the enhancement of cancer care in Namibia.
The two-day workshop comprised presentations by different stakeholders and professionals in health care including oncology, surgery, radiology, social work, and nursing, amongst others, to share knowledge and expertise on high-quality cancer care such as prevention, screening, treatment, clinical trials, palliative care and survivorship care.
Addressing the workshop participants, Prof. Frednard Gideon, UNAM Pro-Vice Chancellor for Academic Affairs applauded the support of DKFZ and the wonderful work they are doing in research for life without cancer and expressed gratitude to the delegation for their support in helping Namibia find solutions in the fight against cancer.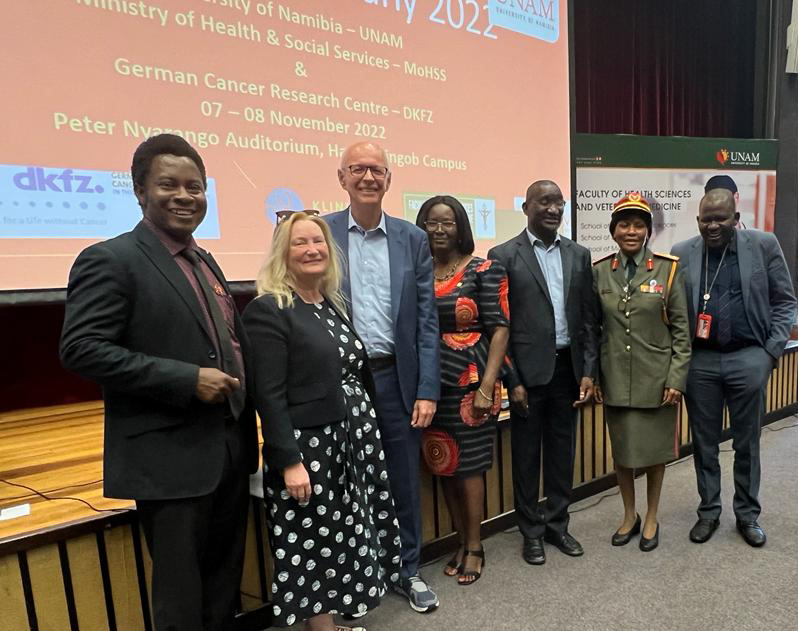 Prof. Gideon stated that it's initiatives such as this, where great minds come together for engagements, that: "we can then develop capacity, infrastructure and strategies that address cancer care and provide better cancer treatment in Namibia". He also called on the decentralization of cancer care and making it available and accessible in other regions of the country to ease the burden of patients travelling to Windhoek to receive treatment.
Prof. Judith Hall, Executive Dean: Faculty of Health Sciences and Veterinary Medicine welcomed the participants to the workshop which took place from 07 – 08 November 2022 at the Hage Geingob Campus. She remarked that this being the first cancer care workshop, it is very crucial and that through this initiative, a lot more can be achieved to ensure cancer is treated better. "We are here as a multi-disciplinary team, caretakers and scientists trying to forge a way forward in providing the best cancer care," she stated.
Also present at the workshop, Naemi Shoopala, Director for Primary Healthcare Services at MoHSS explained that cancer is the number one public health threat and one that requires an aggressive approach in order to reduce premature deaths due to cancer in the country. "We need to act and we need to act now. Hosting this workshop is within the country's priorities to improve early cancer detection and provide better palliative care to patients with cancer", she further elaborated.
Linda Ratjama, a Laboratory Technician for the Biology section at the Namibian University of Science and Technology (NUST) commended the organizers for putting the workshop together. "As a young professional in the field of oncology, the lessons learned from this workshop contribute immensely to my work. Attending the workshop has equipped me to do better research as well as advise my students better when it comes to oncology research in Namibia," she explained.
This workshop was attended by stakeholders from the Namibian Oncology Centre, the Namibian Cancer Association of Namibia, Dr AB May Cancer Centre, Namibian Defence Force Health Services and the Namibian Correctional Services.
The workshop, supported by the Else-Kroener-Fresenius Foundation was also CPD-certified by the Health Professions Councils of Namibia (HPCNA) for all eligible professionals who participated, according to the workshop lead, Prof Onyemaechi Okpara Azu.
(Lydia Sageus is a communications assistant at the Corporate Engagement & International Relations Directorate, UNAM.)