FirstRand Namibia recently handed over medical consumables and clinical equipment worth N$136,382.31 for use by UNAM's Primary Health Care Clinic, paired with a donation of N$500,000.00 towards equipment for the Small Animal Unit at the Veterinary Academic Hospital.
This donation, which was handed over on 03 October 2022, signifies the One Health approach that the university has implemented to sustainably balance and optimize the health of people, animals, and ecosystems and further highlights the support of the private sector in so doing.
Speaking at the handover ceremony, FirstRand Namibia Foundation trustee, Dr Magda Awases, remarked that this donation derives from FirstRand Namibia's commitment towards "driving systematic change in education, delivering skills development, providing environmental protection, supporting health promotion and encouraging sport, arts, and culture in our country".
Dr Awases further explained that they remain steadfast in their request to ensure that the right of every person's access to medical care is protected, while also ensuring that all precautions are taken to save the lives of all communities.  She also remarked that she has no doubt that "these funds will go a long way to save the lives of our animals who provide great companionship and support to people".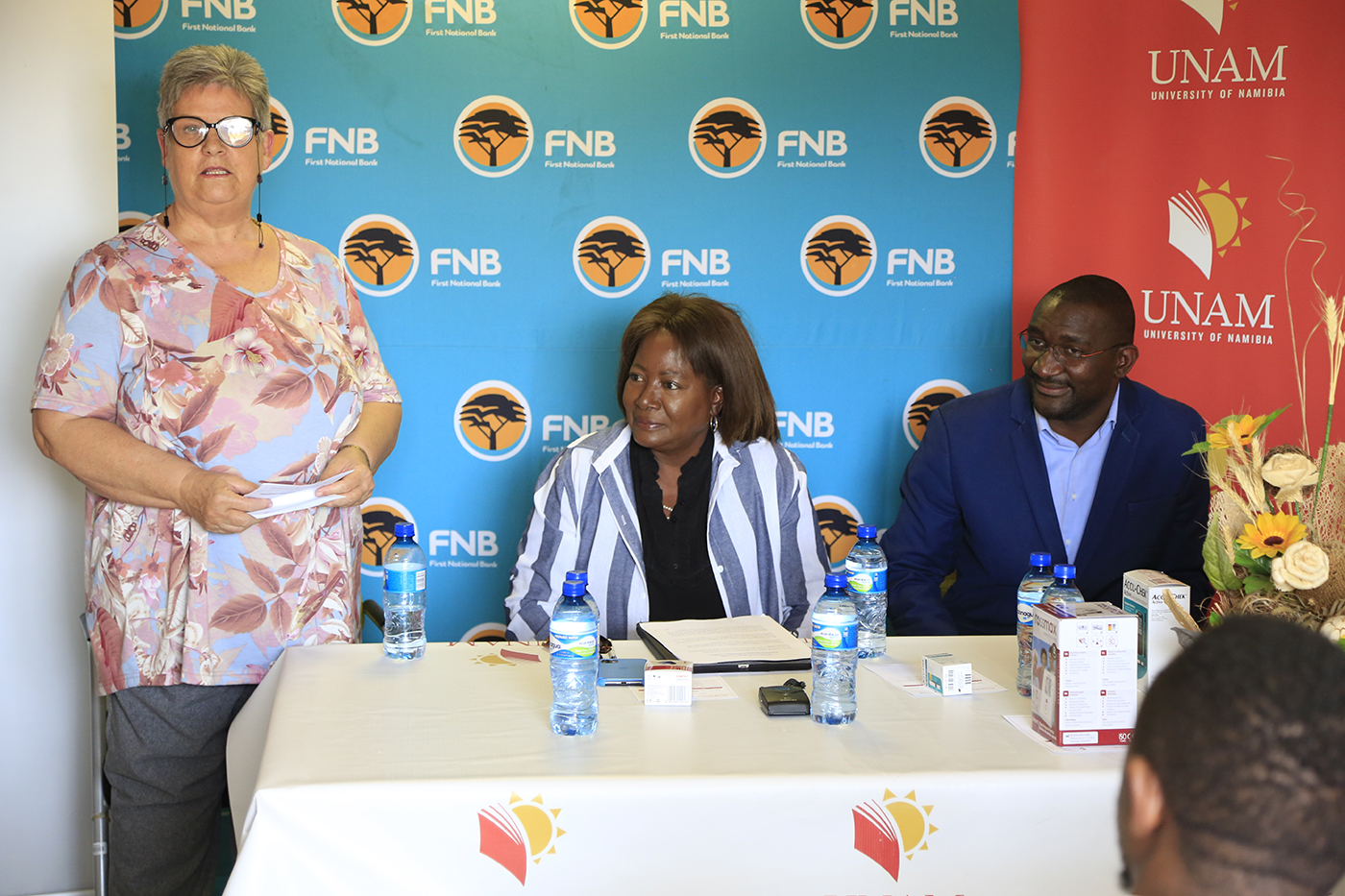 UNAM Pro-Vice-Chancellor of Academic Affairs, Professor Frednard Gideon, conveyed during his remarks, on behalf of the Vice Chancellor, that the equipment will be utilized at the School of Nursing for academic work-integrated learning and distributed to the respective UNAM campuses for the purpose of community outreach clinics and in the campus-based sick bays.
He further added: "This gesture of collaboration between the University of Namibia and the private sector is important to advance teaching and learning, particularly now that UNAM has embarked on a transformed curriculum to be implemented as from 2023".
Dr Rachel Freeman, Head of UNAM Cares, rounded up the event with a heartfelt message of gratitude to FirstRand Namibia and Vaccines of Hope – a consortium of corporates – that significantly contributed towards financing and equipping UNAM Cares to fight the Covid-19 pandemic and vaccinate communities across Namibia.
The handover of consumables and equipment consists of; 10 x Medical Examination beds, 10 x Bed Screens, 10 x Drip stands, 10 x Double Step Footstools, 10 x Fingertip Pulse Oximeters, 10 x BP Monitors, 10 x Glucometers Accu Check Meters, 10 L Oxygen Concentrator and 5 Drawer Emergency Trolleys.