UNDP and NamibRe donate towards COVID-19 Taskforce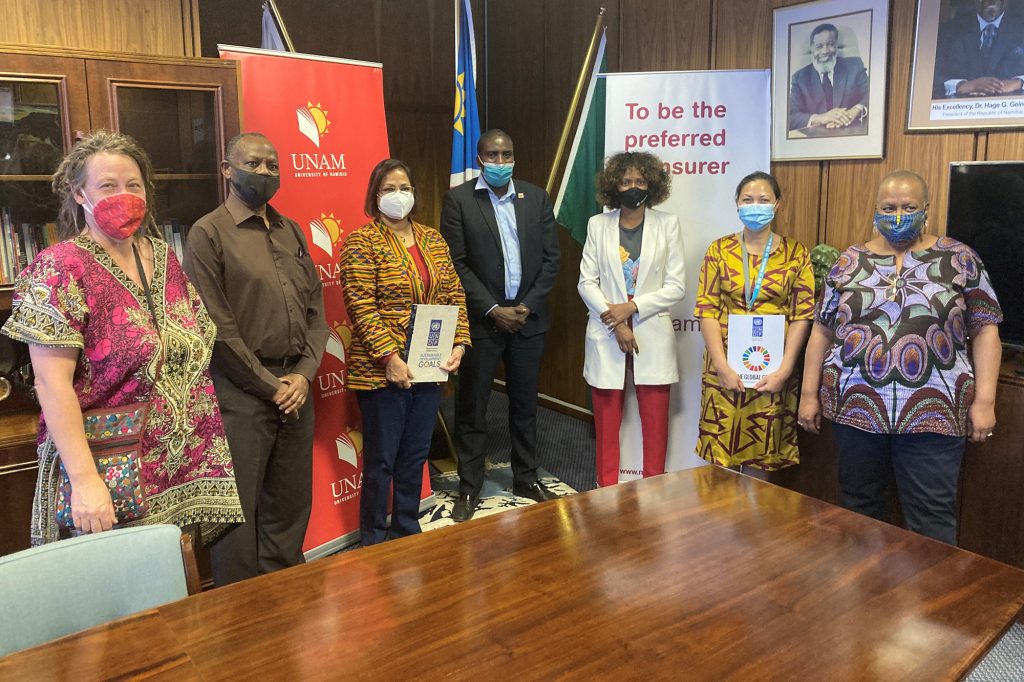 The inter-institutional High Level Research Coordination Taskforce (HILREC) recently received a charitable donation from the United Nations Development Programme and NamibRe. This happened after launching a competition that was part of the practical implementation of their academic research output on Covid-19.
The HILREC taskforce is a formation of higher learning institutions that have collaborated to form a national multi interdisciplinary taskforce that will enable government efforts to mitigate the spread of Covid-19 through research.
Prof Kenneth Matengu, UNAM Vice Chancellor, expressed his sincere appreciation on behalf of the HILREC taskforce and BCC team.
"We are sincerely grateful for your donations, both these sponsorships show true commitment in the wake of Covid-19" said Prof Matengu.
Dr Rosa Persendt, head of the Behavioural Change Communication (BCC) team stated that "the United Nations Development Programme (UNDP) and NamibRe immensely contributed to the finalisation of phase two of our research with a monetary value of US$2,000 from UNDP and a sponsorship of 10 laptops from NamibRE to the value of more than N$50,000".
"The donations made by both these institutions are paramount to this competition and we are extremely grateful" added Dr Persendt.
UNDP Resident Representative, H.E., Ms Alka Bhatia, stated that "collaboration should not only be technical, but financial, and should employ a bottom-up approach – working together and with communities give organisations the opportunity to leverage each other's knowledge, strengths and resources".
Chief Corporate Communications officer of NamibRe, Ms Elizabeth Nailenge mentioned that "NamibRe is all about smart collaborations that have longevity and an impact on the future and saw this project as one of such stature – worthwhile and of meaningful impact".
The taskforce was instituted earlier this year by the Minister of Higher Education, Training and Innovation, Dr Itha Kandji-Murangi, and is headed by the Vice Chancellor of the University of Namibia, Prof. Kenneth Matengu and Chaired by Prof. Frank Kavishe.
This collaboration has eight specialist teams, one being BCC. The BCC team primarily focused on analysing the top-down influence of information and how people have reacted, adopted and transitioned their lives around this information using a bottom to top approach.
The research was conducted through community engagement activities to inform and strengthen the field response and reduce transmission, mortality and burden on the national health system, while recommending/assessing key aspects of behaviour change communication.
The competition is the second phase of the research that encourages people to use information about their community's language, norms and values to enhance the official Covid-19 communication messages from our government that are based on fast changing regulations that aimed to mitigate and contain the spread of the virus.
The competition has received an overwhelming response of creative artwork in the form of songs, poems, stories, role-play and drawings from more than 100 applicants from all 14 regions. The material will be sent to independent volunteering judges and all donations will go towards the entries that won in their respective categories. The entire process will be finished by mid-November together with the final BCC report.  Lastly, one of the outputs of the competition will be an online educational booklet.
Original Story by: Margareth-rose Kangootui