The University of Namibia (UNAM) Action Research Team (U-ART), in close collaboration with UNAM's Multi-disciplinary Research Services (MRS) and UNAM Cares executed a community engagement in celebration of International Women's Day, on 08 March 2023.
Conducted in Samora Machel constituency, Windhoek, the community engagement advocated for non-violent early interventions in the elimination of domestic violence and Gender Based Violence (GBV) by the police, social workers, doctors, nurses, teachers, spiritual and traditional leaders, regular citizens, etc. This resulted in interactive focus group discussions coordinated and facilitated by 18 UNAM Youth Advocates among 60 learners from CJ Brandt High School and High Lands Secondary School, under the supervision of Head of UNAM Cares, Dr. Freeman, Dr. Immaculate Mogotsi from MRS, and Immelda ||Hoebes, Coordinator of U-ART. The focus group discussion was predicated on a documentary (video) on intimate partner violence (IPV) produced by the University of Eastern Finland (UEF), one of UNAM Cares' international partners.
In delivering the keynote address at the event, Deputy Minister of Information & Communication Technology, Hon. Emma Inamutila Theofelus, spoke on the topic: Digital: Innovation and Technology for Gender Equality, and called for collective reflection on "innovative ways to attain gender equality using the various digital platforms."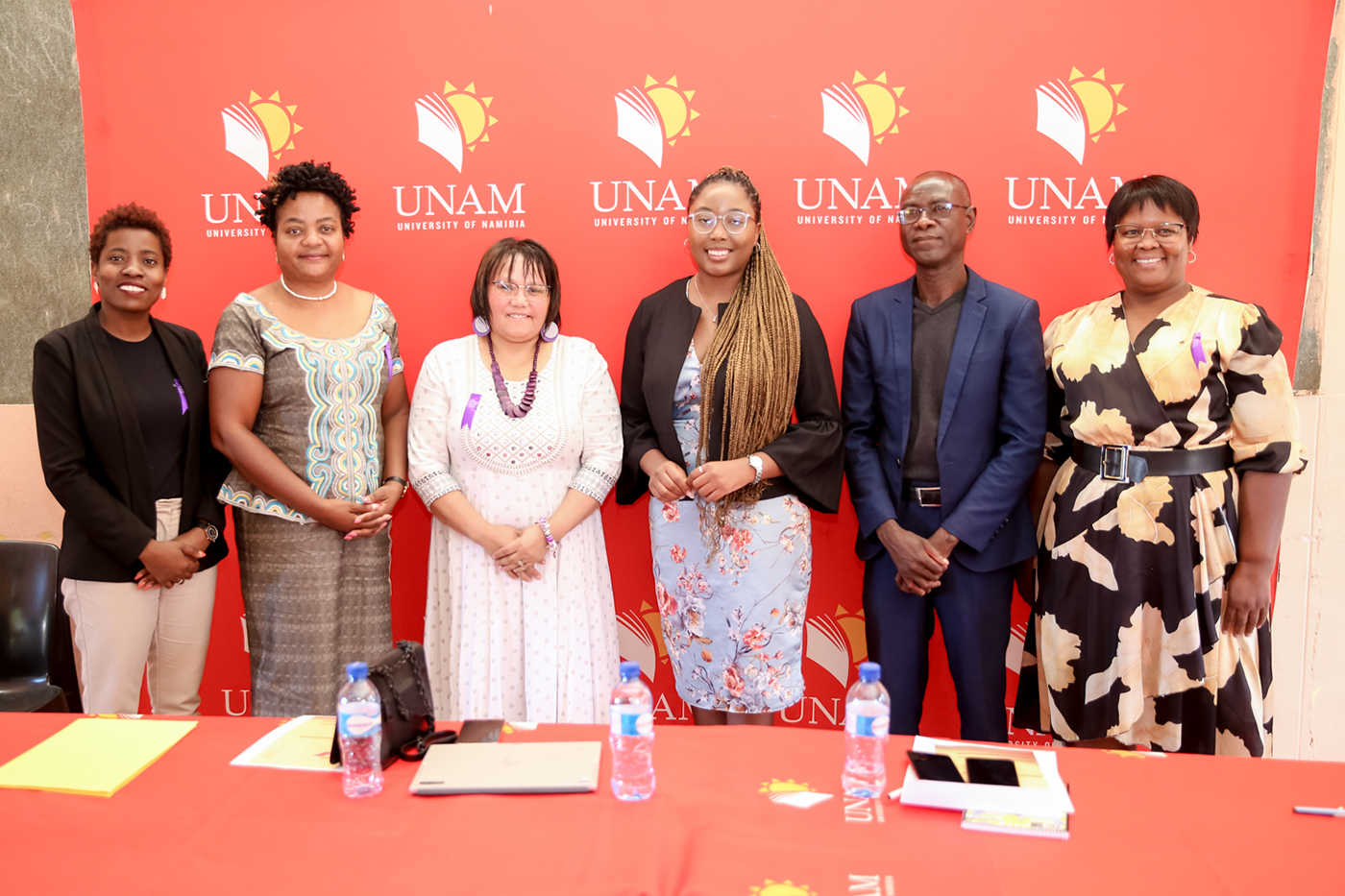 She also discouraged people from taking on "the bystanders and on-lookers persona" in situations of GBV. "Most of us know when a friend, a cousin, a sister, a brother is in a relationship that is abusive…we treat such a relationship as a private matter between the couples involved and that it is none of our business. Maybe, it is time that we make it our business and stop being passive, and stop normalizing gender-based violence," she said.
Giving the welcoming remarks, Hon. Nestor Kalola, Constituency Councilor for Samora Machel, emphasised the need for the government, particularly the Ministry of Urban and Rural Development as well as the Namibian community as a whole to engage in the fight against GBV. "Imagine a gender-equal world; a world free of bias, stereotypes, and discrimination; a world that's diverse, equitable, and inclusive; a world where difference is valued and celebrated. Together we can forge women's equality.
"Collectively we can all embrace equity, celebrate women's achievements, raise awareness about discrimination, and act to drive gender parity…together, as Namibian communities let us accelerate gender equality and empowerment today for a more sustainable tomorrow."
The community engagement ended with a joyful and empowered youth from the aforementioned schools who expressed their immense gratitude to UNAM for reaching out to them and called on the institutions of higher learning and the government to ensure more Youth Friendly, Peer-to-Peer engagements in the prevention and elimination of GBV, bullying, and policy formulation on corporal punishment at household level. They requested for more information, education, and communication materials on domestic violence and GBV prevention to be produced in different vernacular languages.
Dr. Freeman, Head of UNAM Cares said: "The UNAM Cares project in the Office of the Vice-Chancellor, as UNAM's Community Engagement project for collective empowerment and sustainable development, envisage several other community outreaches in the Elimination of GBV in collaboration with internal and external stakeholders in Namibia. "This will be achieved through interdisciplinary, multidisciplinary, and trans-sectoral collaborations and participatory action-based research among the four faculties of UNAM."
The engagement attracted the attention of the nation through media coverage whereby Dr. Mogotsi spoke on NBC's Good Morning Namibia and TYS FM. Dr. Freeman had an interview on Radio Kosmos. The engagement also appeared on NBC TV news.
Original story by: Mbitukorua "Victor" Murumbua