Mika ascends the skies with Qatar Airways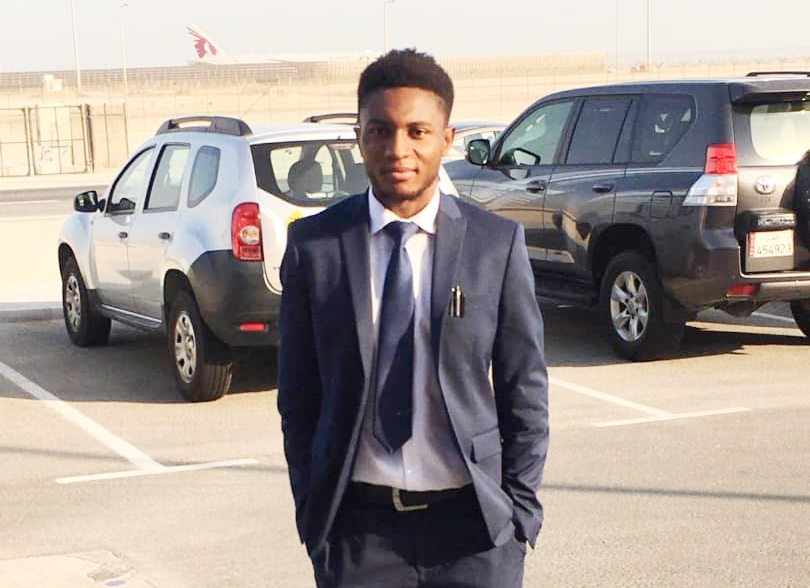 The old adage that what doesn't kill you only makes you stronger, is one that continues to be proven true by highly motivated and resolute individuals who refuse to let life's challenges define them. The same can be said about Moses Mika (24), a final-year Bachelor of Accounting (honours) student at UNAM.
Born and bred in a small village of Kalkrand, a few kilometers from Mariental, Moses was instilled with a strong desire to succeed from an early age. "Our rule was simple," Moses began, "The only acceptable outcome was to pass, nothing more and nothing less," he said. It is this rule that remained constant in Moses' life and pushed him to reach beyond the clouds and shoot for the stars up above.
The insurmountable desire to succeed saw Moses being awarded the top performer award throughout his junior secondary phase. However, life has its highs and lows, and shortly thereafter Moses hit a slump when he failed to live up to expectations during his second term while he was in his final stage of school in grade 12. Moses only managed to obtain a combined 18 points from his six subjects. This underperformance negatively affected him, harming both his self-esteem and emotional wellbeing.
"I cried an entire night after receiving those [disappointing] results and struggled to sleep thereafter," he narrated. It was Moses' first time recording such a loss in his entire academic journey and it was soon to be his last. "It was a huge mental blow for me. The fact that everyone, including my teachers and close friends, stopped believing in me, only made it worse." Despite that, however, Moses refused to let the setback place a permanent dent on his will and desire to make something meaningful out of his life. "I told everyone who doubted me that I am in charge of my destiny and not them," he said confidently. With that Moses focused on conquering his last hurdle, the final grade 12 examinations.
In the end, Moses proved his doubters wrong and himself right when he excelled in those examinations, doubling his tally from 18 to 36 points in five subjects that time around, a huge feat for someone who everyone thought was academically done for. Moses proceeded with his academic pursuits by registering at UNAM for an honours in accounting. "At university level, everything changed as I had to raise the tempo under extremely challenging conditions characterized by accommodation issues, exposure to unfamiliar city life, and a new learning environment."
Moses continued to rise above his challenges and surpass expectations at University. He landed an international internship at one of the world's leading air transportation companies, Qatar Airways, after a tough online interview. "I have been at Qatar Airways for close to three months now and I must say it is an absolute honour to be learning from the best," said a beaming Moses. "Being an intern at Qatar Airways has greatly enhanced my practical knowledge of accounting." Given that I have been assigned to the finance control team, my key duties include seeking to reduce operating costs as much as possible while still maintaining a high level of excellent service offered by the airline," said Moses.
"The experience that I have gained at Qatar Airways so far is exceptional and has gifted me with a practical view of the theoretical aspects of accounting that we encounter in the classroom," he said. Moses encouraged fellow students to take on such internships and make use of the valuable opportunities and incentives that they provide. "Internships help one grow practically into their respective field," he noted. Moses also continued to urge students to work hard in all aspects of their academic or work life. A trait that he says was inspired by the unbelievable work ethic that he adopted from the admirable company culture at Qatar Airways.
QATAR Airways is a strategic Industry partner of UNAM, and Moses is fortunate to be the first to land an international internship opportunity facilitated through the Industry and Cooperative Education office.