FNB sows the first seed towards the fight against locusts
Since four months ago, Namibia's north-eastern regions of Zambezi, as well as Kavango East and West, became a desired location for mega-swarms of African migratory locusts. Severe locust outbreaks causing national disasters had been occurring since the beginning of the year in several countries like Pakistan, India, Kenya, Tanzania, Ethiopia and has now hit the southern parts of Africa including Zambia, Botswana and Namibia.
The emergence of these African migratory locusts in the Zambezi and Kavango regions have launched an attack on Namibia's food security and this threat has encouraged collaboration between the University of Namibia (UNAM), Ministry of Agriculture, Water and Land Reform, Ministry of Environment, Forestry and Tourism, Zambezi Regional Council, and Ministry of Defense (Airforce).   The locusts have destroyed over 500 hectares of grazing land and crops in the Zambezi region and are on route to engulfing the Kavango East and West regions.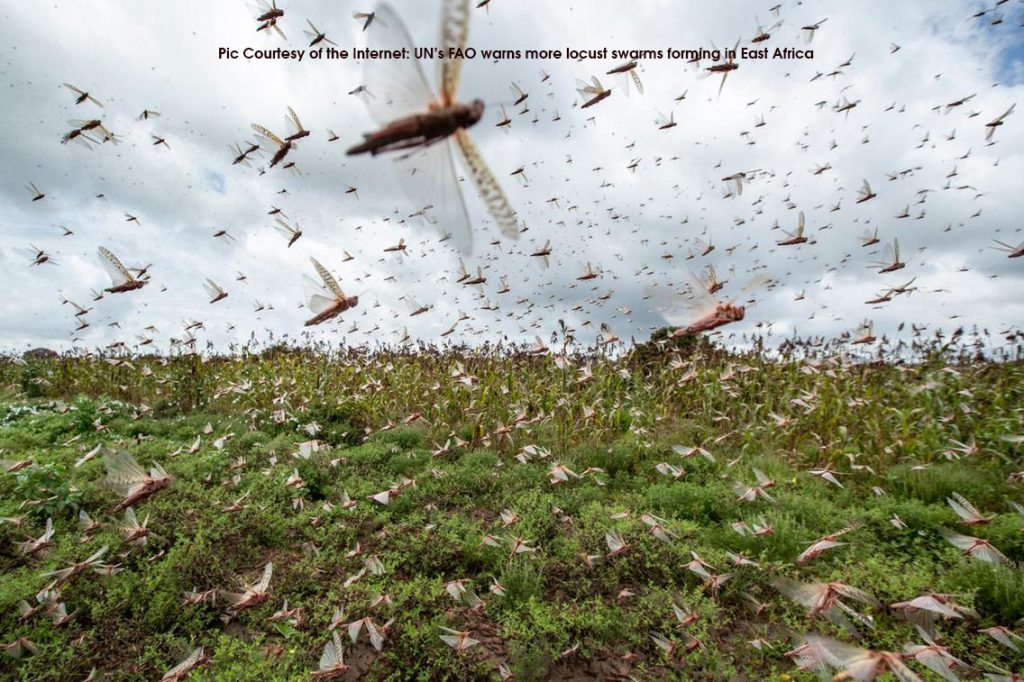 The imminent threat of food security caused FNB Namibia to join this fight with a donation of N$100 000. FNB head of public sector banking, Mr Leslie Puriza, remarked that FNB is excited to make this donation in support of the backbone of Namibia's economy.
"FNB Namibia is proud to assist UNAM with a donation of N$100 000. We hope that this amount will go a long way in enabling all parties to tackle the locust invasion in a professional, environmentally friendly and sustainable manner" said Puriza.
Professor Kenneth Matengu, Vice Chancellor of UNAM noted his appreciation and the importance of collaboration. "We appreciate the business we enjoy with FNB and also the opportunities that allow us collaborate meaningfully and create impact in the sphere that we work in" remarked Matengu.
Pro-Vice Chancellor of Research, Innovation and Development, Professor Anicia Peters, mentioned that this donation will go towards procuring equipment as well as strengthening community participation in the fight against the locusts.
Peters mentioned that their research discovered innovative natural methods of containing the spread of the locusts. This knowledge will be transferred to community members to help mitigate the movement of these locusts.
"Our research team looked at different types of environmentally friendly pesticide, resistance levels of locusts towards pesticides, mapping and tracking assistance to the Airforce for aerial spraying, natural methods that farmers have been using to mitigate the invasion of locusts and we have piloted a natural locust harvesting method."
Once the locusts are caught they are brought to UNAM's Katima Mulilo campus for harvesting. These locusts are, thereafter, used as fish and poultry feed because of their high protein levels.
She further added that UNAM's support towards this fight was inspired by the difficulty the region faced in containing the spread of these locusts.
"It wasn't particularly the outbreak of locusts that captured our attention; it was the difficulty that the region had in containing the outbreak – specifically the challenge they faced when it came to pesticide spraying. Farmers had to move their livestock to another location for 21 days to spray the effected location and moved them back in order to spray the other area" said Peters.
The University's support has mainly been through research aimed at better understanding the behavior of locusts and to develop longer term strategies and interventions to deal with future outbreaks.
"So far the university has managed to track and map the locusts in order to see where the hotspots are and what their movement patterns are. We also studied the locusts' behavior pattern in order to point out precise locations for aerial spraying. In addition to this, we are able to make predictions of their next location and this will help us to effectively curb their spread. We also fielded social scientists to investigate the societal and economic impact of the outbreak" said Peters.
Peters remarked that the fight is not over and we need to persistently continue our efforts "The fight is not over as these locusts might move to different regions given that another outbreak is occurring in east Africa and this is why we appreciate FNB coming on board to support both UNAM and the country. We hope that more companies especially in the food security sector will join this effort." said Peters.
Puriza stated that "we are excited by the work done by UNAM and we sincerely hope that all their observations will lead to interventions that can curb the locust swarms in the north".