Education experts assist Police Force with materials development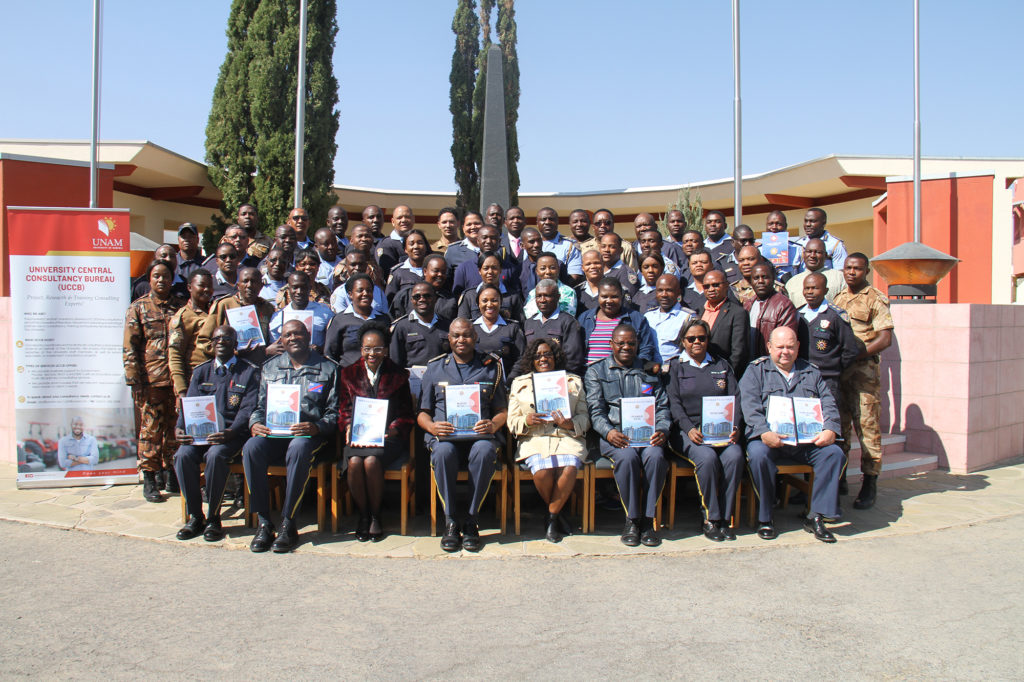 The Namibian Police Force had 80 of its finest members undergo a Materials Development Training programme, assisted by consultants from the University of Namibia, via the University's Central Consultancy Bureau.
The roughly, three-month training course took place at the Israel Patrick Iyambo College in Windhoek. The training was attended by two deputy commissioners, 19 chief inspectors, 23 inspectors, 25 warrant officers and 11 sergeants.
Driven by a commitment to ensure that new cadets are adequately skilled, the training sought to equip trainers within the Namibian Police with skills to develop materials for use in the training of their currently recruited cadets.
Dr Lydia Shaketange, the HOD for Lifelong Learning and Community Education (LLCE) and Dr Miriam Hamunyela, were the principal consultants for the project. The two senior lecturers are experts in material development and training of youth and adults.
The process of material development involved training the police officers in material development using key principles of adult learning. "Since the police officers are living the experience of their duties, they know and understand their lines of duties. They were the content experts of the modules they developed", remarked Dr Shaketange.
Together, Dr Shaketange and Dr Hamunyela worked with the police to develop the following modules: Basics of Law; Policing; Charge Office Administration and Management; Computer User Skills; Radio User Skills; Basic Public Order Management; Basic Traffic Law Enforcement; Basic Border and Installation Management; Physical Education and Drill Musketry.
This training comes in the wake of a recent review of the Police Basic Training Curriculum, accomplished with the support of the Finnish Police Board.
"The aim of this new curriculum is to qualify new police graduates to advance to the Executive Diploma in Police Management (EDPM), offered by the Namibia Business School", remarked the Inspector General of the Namibian Police Force, Lieutenant-General Sebastian Ndeitunga. He further commended UNAM for their support during this process. The Department of LLCE deals with psychology of adults learning, which considers the methods of development and learning most appropriate for youth and adult education.