Cultivating Top Class Dentists for the Future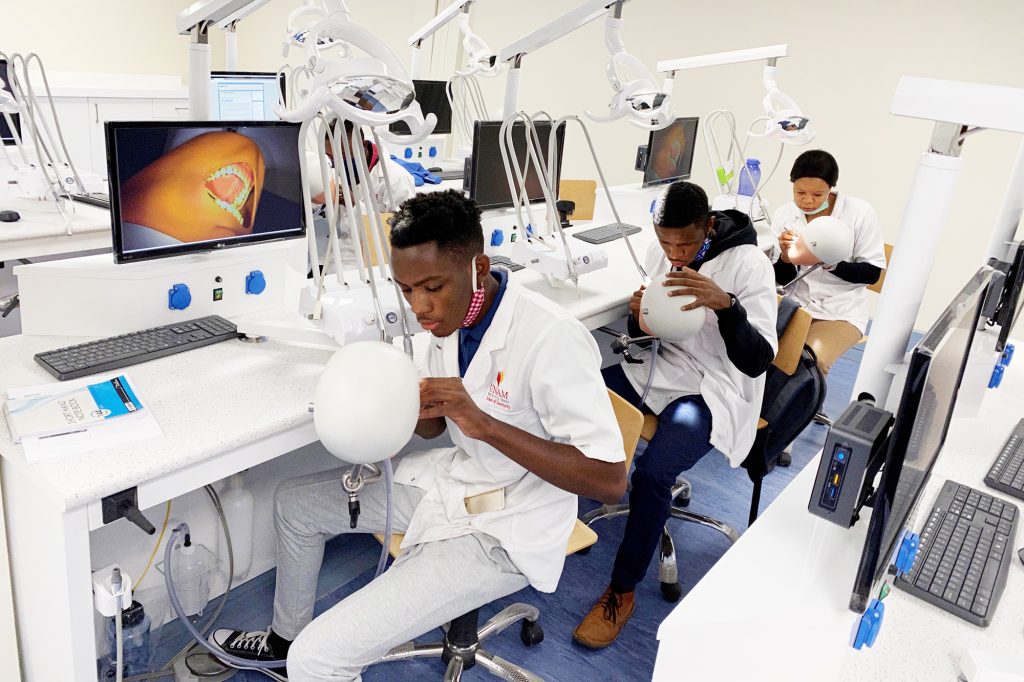 A peek at UNAM's new School of Dentistry
The science of dentistry has largely been associated with the mechanical exercise of only removing rotten teeth, however, modern clinical dentistry is more than the extraction of teeth and the School of Dentistry aims to shine a new and different light on Dentistry as an innovative modern academic profession in Namibia.
The school was established in 2018, as a means to an end, which will offer Namibian students a chance to study dentistry on home grounds at a much higher standard than that offered internationally.
Third-year Bachelor of Dental Surgery student, Ruweda Davids, was surprised when she found out about the dental surgery programme and enrolled shortly after completing a four-year degree in dental technology, at a South African University. She further states that studying in Namibia has a number of benefits – it is more affordable and the standard of education is better.
Associate Dean of the School of Dentistry, Professor Norbert Gutknecht remarked that "The dental school follows a well-accepted and recognized curriculum similar to the University of Stellenbosch and that of the Queens Mary, University of London".
The School of Dentistry is the youngest department in the Faculty of Health Sciences and is committed to be one of the best dental surgery schools on the continent.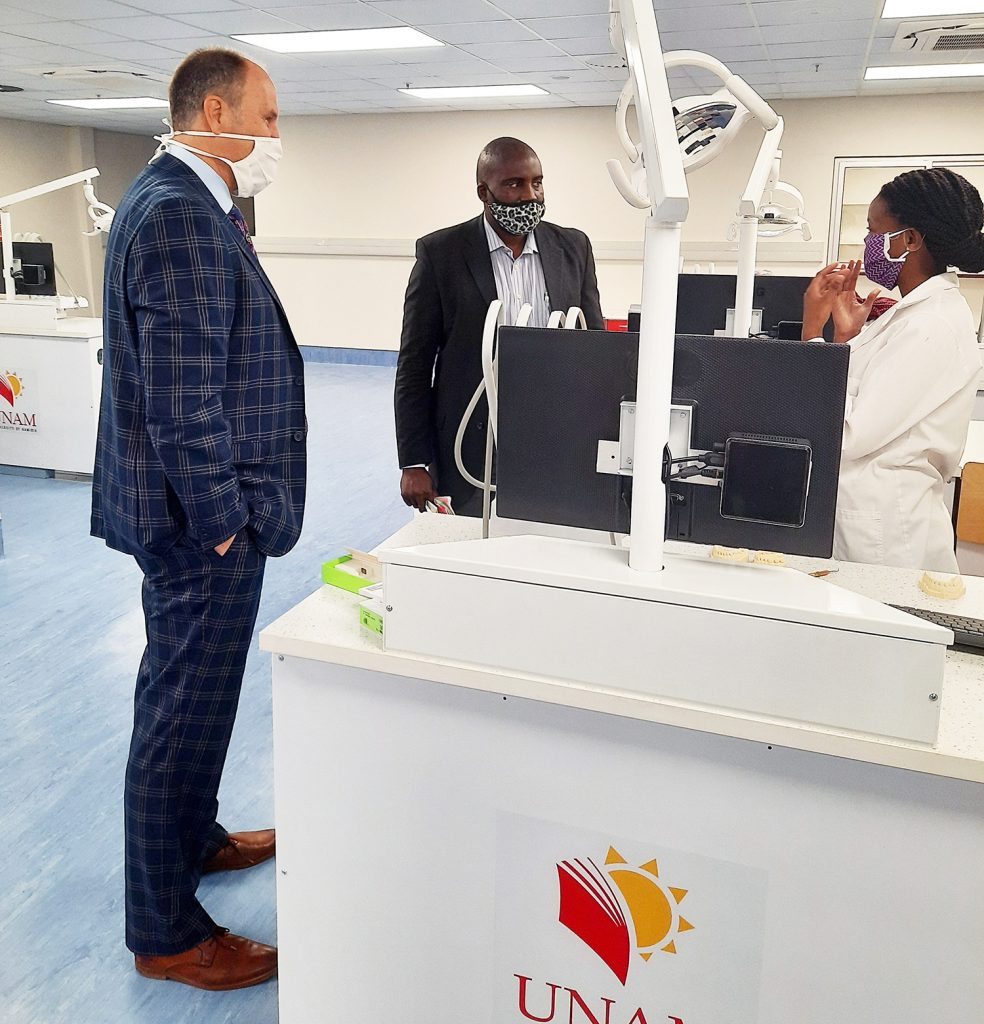 Prof. Gutknecht further adds that the University of Namibia's dental school offers students a great lead that is hard to find elsewhere. "Students have the privilege of practicing in the best stimulating laboratories, equipped with modern phantom heads and undergo pre-clinical and clinical training which most schools in Africa and the world do not offer to foreign students, or at least not in a fully equipped laboratory' said Prof Gutknecht.
Dental surgeon students are educated and trained to the highest standard, in order to enable them to practice all over the world and meet the growing demand of Namibia's developing dentist fraternity. The Head of the Prosthodontic Department, Dr. Frank Schwartzman explained that "dentistry in Namibia is very developed, therefore, we are not only educating students for state hospitals but to open their own practices and to replace us as lecturers. We are preparing them for the 1st class world".
Senior Dental Laboratory Technician, Hannes Henn, added that "Students are equipped for the future and that involves having a very good understanding of dental technology including CADCAM. CADCAM is highly computerized dentistry that involves computer-aided design (CAD) and computer-aided manufacturing (CAM) software's that make it possible for dentists to perform complex procedures faster, more easily, and accurately. CADCAM introduces laser dentistry and other high technical subjects that will only be taught to students from the fourth year onwards.
Dentistry is a highly technical field which means it is an extremely costly field of study.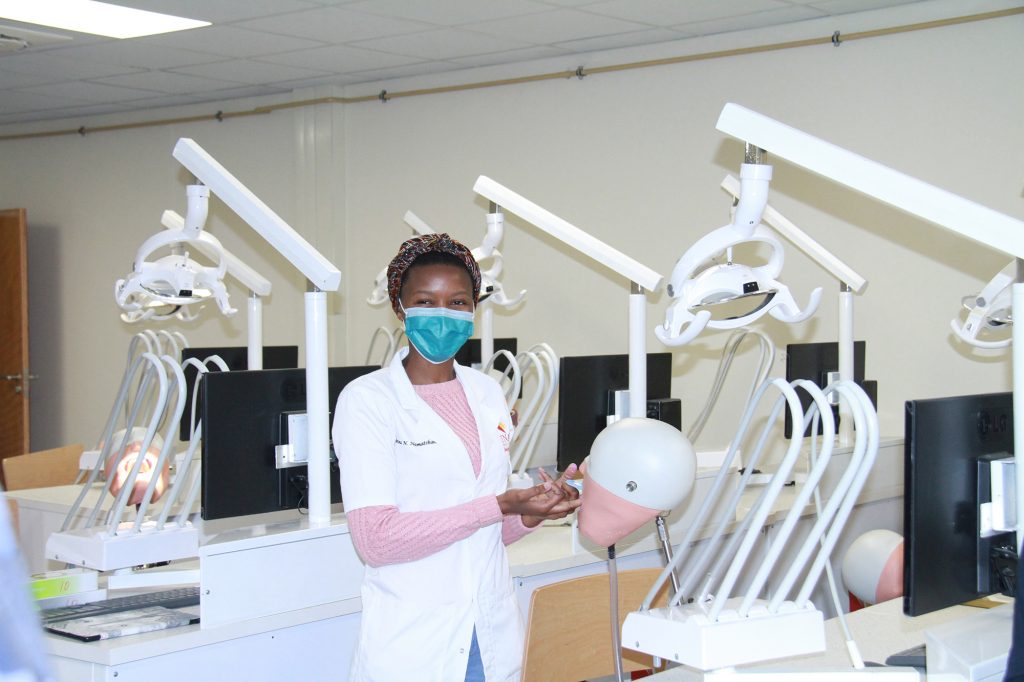 The school of dentistry is growing into establishing a fully equipped dentistry through stages. Currently, the school is working towards completing senior (fourth and fifth year) laboratories before the next academic year despite the challenge that finances pose.
Prof Gutknecht expressed great gratitude towards the Vice Chancellor for his great support towards the establishment of the school.
"I am also very happy and thankful, that our Vice Chancellor Prof. Matengu is of such great support to the growth of our dental school".
The emergence of the School of Dentistry can be likened to the process of growing teeth which is largely exciting, indispensable, and a challengingly long journey before seeing the first tooth – in spite of the school's remarkable success so far there is a protracted journey ahead towards seeing the first cohort of graduates.