2015 to 2021 – Part 1
An essential part of the wildlife programme offered at Katima Mulilo Campus is to expose students to the real world out there in the form of field excursions and student field attachments.
In September 2014 during one of the field excursions to Kasane (Botswana) and Impalila Island, led by Ekkehard Klingelhoeffer and Jim Kairu and accompanied by the 2nd and 3rd-year students, a debate took place, as is custom around a campfire, to deliberate on the day's observations made and any conclusions that can be drawn from it.
The Tourism activities in and around Kasane and on Impalila island (Fig. 1) led to an interesting and hefty debate – the question asked was: "Why the discrepancy in tourism activities in both areas". The tourism potential on Impalila Island is just as favourable as at Kasane – but tourism activities on the island were detected to be minimal. Around this campfire the thought and interest germinated in conducting research in this region regarding biodiversity status and the development of a sustainable tourism plan for Impalila Island.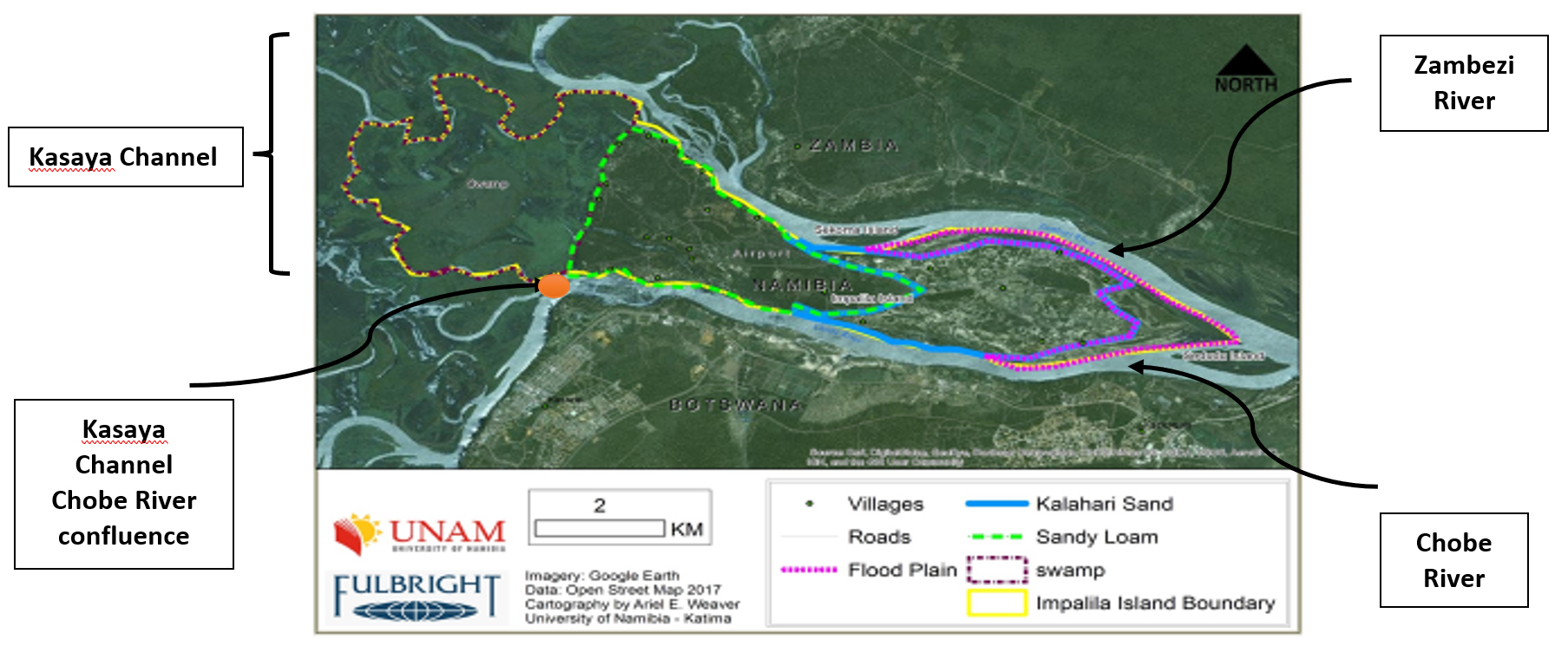 The objective of this article (Part 1) is to introduce the current seasonal bird surveys that are being conducted at Impalila Island. Follow-up articles will provide seasonal quantitative data on bird species diversity and numbers including the mapping of spatial and temporal sightings of hippopotamus and crocodile.
Once back in Katima Mulilo, the Department met to pave a way to determine how this question could be addressed, i.e. how can the tourism potential on Impalila Island be promoted and developed in a sustainable manner to ensure that the resident communities could benefit from it. A title for the research was recommended: "Biodiversity, Conservation and Tourism Development at Impalila Island, Namibia"
It was in 2015 that the Department acted on a call for research proposals issued by the National Commission for Research Science and Technology ( NCRST). Due to the unforeseen delays and the availability of funds, the implementation of the research of this encompassing biodiversity project did not materialise as anticipated.
Nevertheless, both Ekkehard Klingelhoeffer and Jim Kairu took it upon themselves to initiate a bi-annual bird count along the Kasaya Channel as of 2015, which for ornithologists, is a birds' paradise. It needs to be mentioned that for both lecturers birding has been a lifelong hobby and it was envisaged to attract students through the bird counts to this interesting hobby, which Impalila Island and its unique environment offers.
 The Kasaya channel runs on a south-north axis and joins two rivers, the Zambezi and Chobe, at respectively S17°75.1/ E025°16.89 and S17°76.9/E025°16.2 (Fig. 1).
The width of the channel varies from 20 to 30 m.
The entire channel is fringed with reeds (Typha and Papyrus).
A few hydrophytic trees grow on the banks and swampy areas.
At its confluence where it joins the Chobe River, rocky outcrops appear on which trees (Syzigium guinenzi) grow – ideal sites for nesting of the migrant yellow-billed stork.
The importance of the bi-annual bird counts was:
To determine seasonal and annual trends in bird species composition and numbers
To detect which bird species are migrants to the region
Tourism development and biodiversity conservation are key economic pillars in Namibia: Impalila Island is a fragile ecosystem with diverse biodiversity, which, if well managed, could become a unique sustainable ecotourism asset
One of the aims of the research is to provide the necessary tools, skills, knowledge, and understanding to allow the Imapalila Island conservancy to fully engage in the conservation of the birds and the development of a specialised tourism birding product
The birds occurring at the Kasaya Channel play both an important ecological and economic role in this wetland ecosystem
This participatory research is a practical way of engendering people-centered economic development by galvanizing the residents of Impalila Island into applied research-based action.
Preliminary results
The biannual surveys were conducted whenever time allowed and the availability of hiring a boat from either the Impalila Conservancy or Nhzou Lodge. These surveys were at times accompanied by students of the Department and at all times by the knowledgeable birder, Mr David Mwakamui, who is a resident of Impalila Island. One of the objectives is to determine both water bird species richness and abundance and to determine how seasons affect bird species diversity and numbers.
To date, 46 species of birds have been sighted with numbers exceeding a 1000 birds at times. (Fig. 2)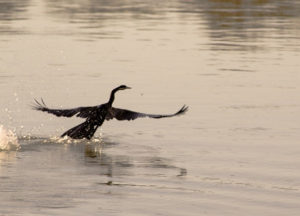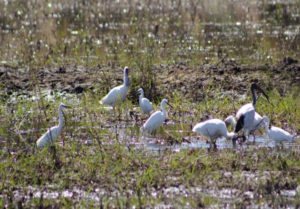 Figure 2: Birds sighted included darter (LHS), egrets, spoonbill and sacred ibis (RHS).
In addition to the birds sighted, hippopotamus and crocodile are also being recorded. (Fig. 3)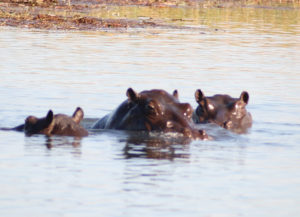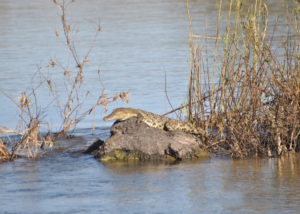 Figure 3: The presence of hippopotamus and crocodile are also recorded during each survey.
The fluctuations in the number of water birds detected per survey could be due to:
Changes in water levels that directly influence food availability and availability of breeding sites and cover, and/or
Seasonal movements of local, regional, and Palearctic migrants.
Increasing degradation of the margins of the channel and surrounding swamp due to ever-increasing cattle herds will likely affect the suitability of the study area for marsh birds (e.g. lapwings, dikkops, jacanas, etc.).
At the confluence where the Kasaya Channel links with the Chobe River (Fig. 1) rocky outcrops appear which are vegetated by the water pear – mutoya (Syzygium guineense) which have become a popular breeding site for the migrant yellow-billed stork during September/October (Fig. 4).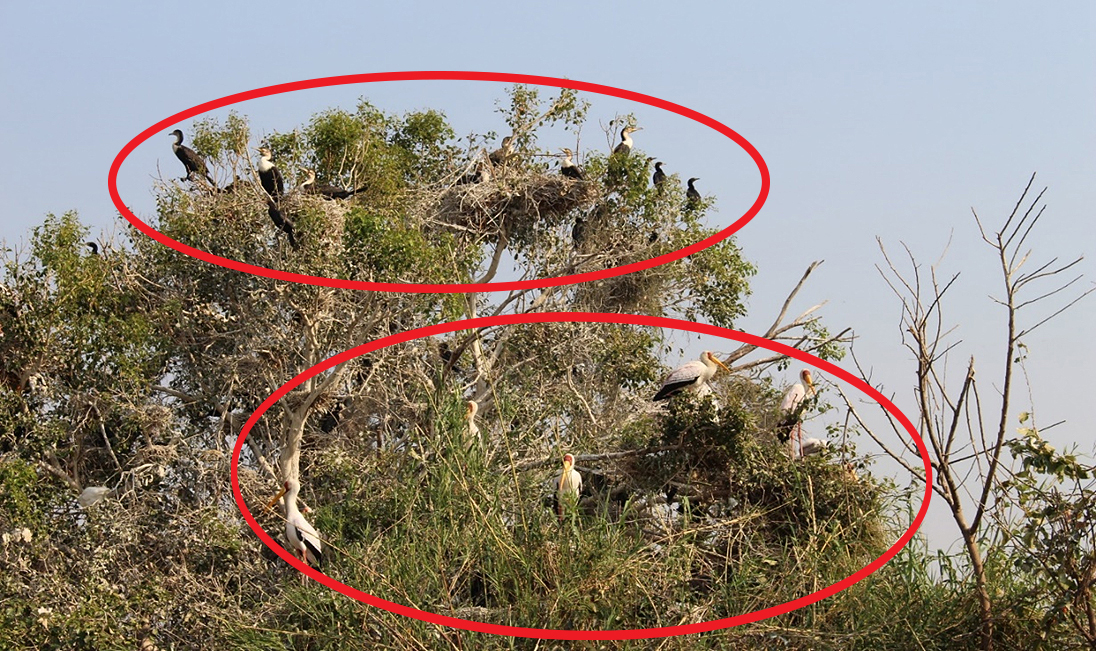 The confluence has become a popular spot for both hippopotamus and crocodile due to its shallow sluggish flowing waters (Fig. 5). The crocodile feast at the onset of spring on birds falling out of the nests.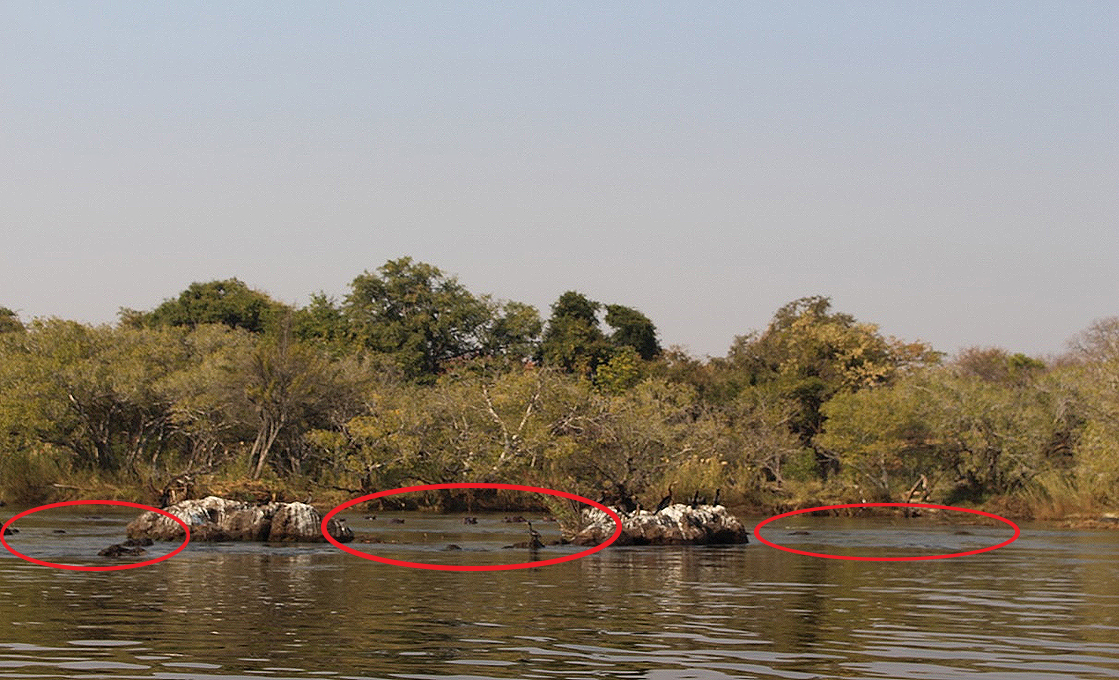 The seasonal surveys will be ongoing and will in future include additional channels that join the Kasaya Channel. Staff, students and members of Impalila Island will be trained to ensure that these surveys determining trends in bird species and numbers are ongoing.
Original story by: Ekkehard Klingelhoeffer and Jim Kairu