Founding Father urges government to prioritize bulk sea water desalination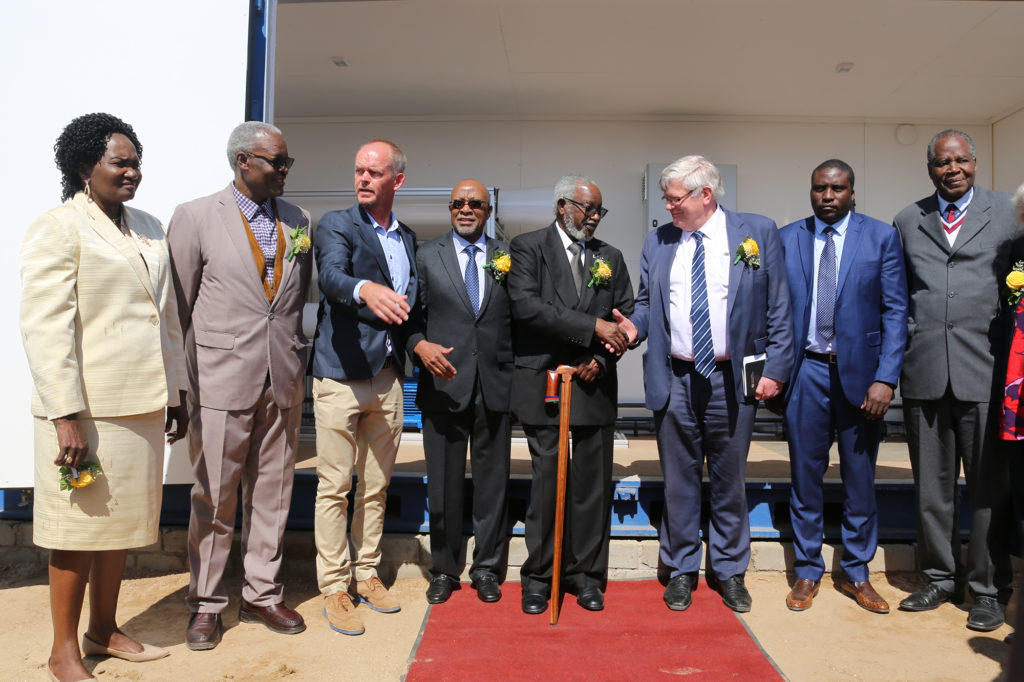 Drought stricken Namibia no longer has to dream about the prospect of drinking affordable sea water. This comes barely a month after the launch of a solar-powered desalination plant at UNAM's coastal campus, the Sam Nujoma Campus, which has successfully piloted water purification by making sea water fit for human consumption.
Speaking during a visit with stakeholders this week, the Founding Father of the Namibian Nation, His Excellency, Dr Sam Nujoma made an emphatic to plea to government to prioritize investing in desalination plants as an alternative to the over-reliance on underground water.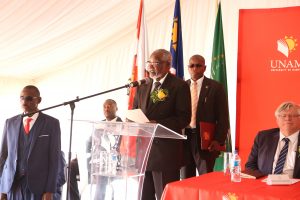 "I would therefore like to propose to the Government of the Republic of Namibia to adopt Seawater Desalination using renewable energy as the principal source of bulk water supply in our country in medium and long term time frames", urged Dr Nujoma.
He further justified his claim by explaining how a report from UNDP shows that water scarcity affects more than 40 percent of people around the world. It is an alarming figure that is projected to increase with the rise of global temperatures, as a result of climate change.
The plant at Henties Bay is unique, because it is fully operated by solar power. "It clearly demonstrates that Namibia can utilize its unlimited seawater resources and tap from its abundant solar energy to guarantee the supply of clean water to its entire population", highlighted Dr Nujoma.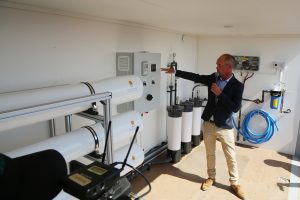 The Technology behind it
UNAM's Pro-Vice Chancellor for Research, Innovation and Development, Professor Frank Kavishe, explained the science behind the new desalination plant, which was made possible by a partnership between UNAM and the University of Turku in Finland.
"This plant is the first of its kind in the world because it uses reverse osmosis technology to desalinate seawater based entirely on solar energy", remarked Professor Kavishe.
He further explained how solar energy is captured from an array of solar photovoltaic panels and transmitted directly into the containerized desalination plant, to power the high pressure pump necessary for the inlet raw water and the operation of the high pressure reverse osmosis membranes.
Raw seawater is pumped from the ocean and transported through a set of filters to remove sand and any solids from the water. The filtered seawater is then forced through the reverse osmosis membranes to produce clean desalinated water that is pumped overhead storage tanks. The concentrated salt solution known as brine is a by-product that is removed from the plant through drainage pipes and sent back to the ocean. In future, this brine will be sent to a salt recovery plant to produce salt.
The current plant is a pilot project that produces about 3000 litres per hour. This is not enough to address current water shortages in the country. To produce enough water for transportation in land, as far as Windhoek, would require significant investment. One which can produce at least 30 million cubic meters of desalinated water per year. Transportation of the water in-land, from the coastal areas to the centre of the country, would require that water is pumped to an elevation of 1700 metres, and the requisite pipelines to get it there.
Prof Kavishe further highlighted that given Namibia's long coastline, several plants would be needed to supply the whole country. One plant between Swakopmund and Henties Bay. Another between the mouth of the Kunene River, and one at Lüderitz.
UNAM has a pre-feasibility report titled "Large- Scale Seawater Desalination in Namibia".