The Faculty of Health Sciences & Veterinary Medicine (FHSVM) represents UNAM's excellence in producing public servants to the health of both humans and animals alike. The approach to education prioritise student learning in today's rapidly evolving technological landscape. To this end, 3D printing has emerged as a groundbreaking innovation with the potential to revolutionise various industries such as health and education. Students have the opportunity to engage in hands-on learning experiences, where they can design and fabricate their own creations and visualise relevant structures.
3D printing has emerged as a revolutionary technology with significant applications in health sciences education. Its ability to create three-dimensional objects with intricate details and precision has opened up new possibilities for teaching and learning in this field. In health sciences education, 3D printing allows for the creation of anatomical models, medical devices, and surgical tools that closely resemble real-life structures.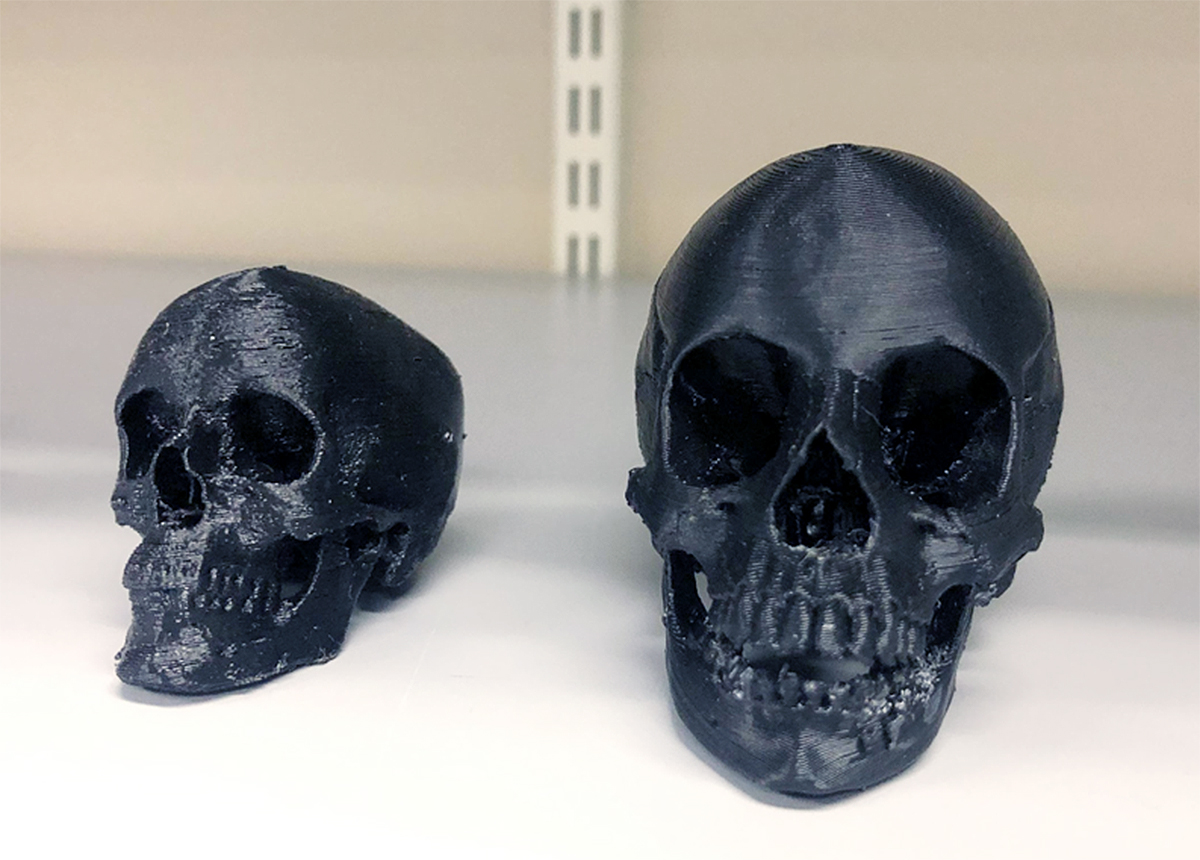 The FORG3D lab at UNAM initially opened on the 25th of January 2022, with the purchase of equipment through Dirisana+, an EU co-funded capacity building project in Higher Education aimed at improving health sciences education in southern Africa. The grant is headed by Dr Adele du Plessis of the Department of Human, Biological & Translational Medical Sciences in FHSVM. The lab has made 100 model structures to date and students have responded positively to an early introduction of the 3D printed models in anatomy classes. By providing a tangible and interactive learning experience, 3D printing enables students to visualise and manipulate objects, fostering a deeper understanding of the human body and medical concepts. Additionally, customised prosthetics and implants can be tailored to individual patients, enhancing their quality of life provided by physical therapy students and graduates.
Furthermore, it promotes hands-on learning, critical thinking, and problem-solving skills, preparing students for real-world healthcare challenges. Research projects evaluating the impact of these innovations are currently underway. Overall, the application of 3D printing in health sciences education holds immense potential in improving the quality of health sciences training and ultimately enhancing patient care.
This groundbreaking addition to our facility marks a significant milestone in the Faculty's commitment to innovation and advancement in various fields. The lab provides an environment for creativity and collaboration, fostering a culture of innovation and pushing the boundaries of what is possible.  The lab provides access to state-of-the-art 3D printers, allowing students and staff to transform digital designs into physical objects with precision and speed. We envision a vibrant community of researchers, entrepreneurs, and enthusiasts coming together to exchange ideas, share knowledge, and push the boundaries of what is possible.  The FORG3D lab officially launched on the 31st May 2023 and employs two part-time staff.  The lab is open to UNAM staff and students from all campuses for consultations, and currently offers 3D scanning and model printing. For 3D print, payment will be by filament until the lab establishes a working account.
As the technology advances, we can expect to witness even more sophisticated applications within FHSVM, such as bioprinting human organs. The launch of the FORG3D printing lab marks an exciting chapter in our journey towards a future filled with endless possibilities in healthcare and education. By providing access to cutting-edge technology, fostering innovation, and driving collaboration, the possibilities for creativity, efficiency, and progress at FORG3D are truly limitless.
We invite you to join us on this incredible journey as we unlock the true potential of 3D printing and pave the way for a brighter and more innovative future. Visit us and be a part of this remarkable revolution! The lab is located in the Anatomy Museum, Room 1LSO168, Life Sciences I Building, Hage Geingob Campus. For more information contact FORG3D technician Hansbert Hamutenya at hhamutenya@unam.edu.na or 081 382 9459.