The School of Veterinary Medicine, University of Namibia, is proud to launch its mobile animal clinic as part of UNAM's commitment to provide community service in Namibia. The Mobile Clinic initiative is governed by a Memorandum of Understanding between Dr Ian Baines, the owner of the clinic, and the University of Namibia. Dr Baines is on the academic staff of the School of Veterinary Medicine. Donor funding allows the clinic to travel to low income areas across the length and breadth of Namibia, and perform surgical sterilisation of 100 dogs and cats every month. At the same time the animals are fully vaccinated, and both external and internal parasites are controlled.
The benefits to the School of Veterinary Medicine are immense in terms of student training, where our sixth year students will travel with the clinic as part of their clinical rotations. In this way our students will be exposed to large numbers of animals and have the opportunity to gain experience in record keeping, sterile preparation, anaesthesia, surgery and recovery of the patients. Currently the clinic can handle an average of 35 surgeries a day, and with students being trained, this will probably average 20 a day. The clinic also has great potential for research opportunities, including gathering data on disease and parasite status of the animals.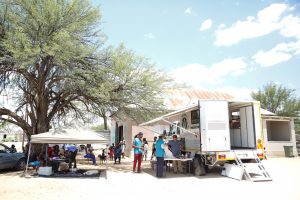 The mobile clinic is fully registered with the Namibian Veterinary Council, and complies with minimum standards for a surgical facility as prescribed by legislation.
The current routes followed by the clinic are as follows, concentrating in low income communities with little or no access to veterinary services:
South West: Bethani, Aus, Luderitz
South East: Keetmanshoop, Grunau, Karasburg
West: Karabib, Usakos, Uis
East: Omitara, Witvlei, Drimiopsis
North West: Kamanjab, Khorixas, Outjo
North East: Rundu, Katima
Written by: Dr. A. Marais