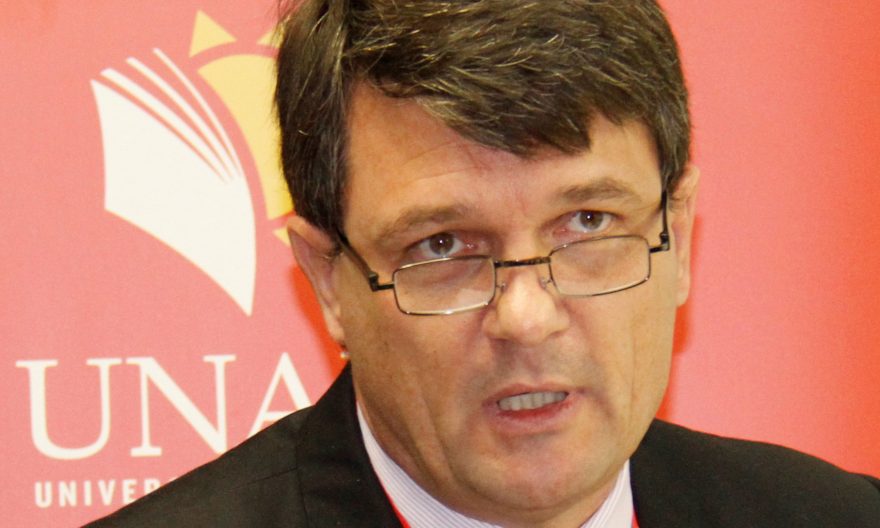 A leading UNAM Professor was recently elected as President of two associations following their respective annual general meetings.
Associate Professor Herman Beyer, teaches Afrikaans linguistics in the Department of Language and Literature Studies in the Faculty of Humanities and Social Sciences at the University of Namibia.
The African Association for Lexicography (AfriLex), recently elected him to serve as President.
AfriLex was established in 1995 as an international academic association for lexicographers and lexicographic scholars across Africa and beyond. The association held its 24th annual international three-day conference in Windhoek this year, with 31 adjudicated papers and two keynote addresses.
Subject experts and postgraduate students that attended hailed from as far afield as Denmark, Germany, Italy, Russia, the UK and the USA.
Similarly, earlier this year in March, Prof. Beyer was elected to a second term as President of the Professional Association for Afrikaans Language Teaching in Namibia (PVATN). Afrikaans is still the lingua franca in Namibia, boasting the title as the most widely spoken language.
The PVATN facilitates the continuous professional development of Afrikaans teachers in Namibia and provides complementary subject support, mainly by means of an annual national two-day conference, which attracts about 250 Afrikaans teachers from all over Namibia, as well as publishers and experts from South Africa.
The PVATN is an initiative founded by Prof. Beyer nearly two decades ago, and this year held its 19th national conference. Many of the former ministers of education have officiated at PVATN conferences in the past, and the association is recognised as a valuable partner in professional development by the relevant regional directorates of education.
"It is not easy to simultaneously oversee the activities of two associations and two conferences per year, and this year was tougher than usual", remarked a relieved yet satisfied Beyer. Further adding that, "I am honoured and humbled at the same time to have been re-elected as President of these associations, because they are close to my heart. But the job would be hopeless without the dedication, hard work and trust of the respective boards, both of which are formidable teams,".
Apart from teaching Afrikaans, Prof. Beyer's primary research interests are pedagogical lexicography and contrastive linguistics.